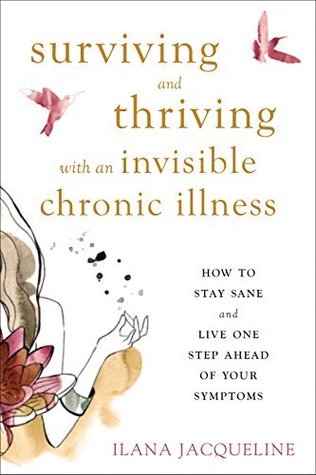 Genre: Non-fiction
Published on:  March 1, 2018 by St. Martin's Press
Pages: 201 (Kindle Edition)
**I am deeply grateful to the publisher and the author for providing me a copy of this book through Netgalley. This review solely contains my honest thoughts and opinions.**
It's time to step up my shelf with a non-fiction book. Surviving & Thriving with an Invisible Chronic Illness by Ilana Jacqueline is the first non-fiction book that I've finished.  Ever. It was a short book and very concise but I wanted to take my time in reading it because of the helpful information it contained and that I found those information to be fragile and needs to be given more attention. There are a lot of things to learn from Jacqueline's book and believe me when I say that it will be worth your time if you choose to read this book.
Book Preview
Diagnosed with a chronic illness, Ilana Jacqueline reaches out a hand to people who goes through long-term diseases and/or disorders through her book. Full of much-needed advise and counsel, in collaboration with experts she interviewed, this book truly lets you feel that you aren't alone in what you're going through and there will always be people ready to reach out and pull you out of the dark. Jacqueline's book talks about self-help and how to handle challenging situations. And most of all, it tells you to not only survive but actually live as a happy person, because with or without chronic illness, you deserve to live a fulfilling life.
What I Think
I like to think that reading Surviving & Thriving with an Invisible Chronic Illness will give me a new perspective on things that are really happening in today's society, especially when it comes to the healthcare industry. As someone who's journeying through the medical field, I yearn to be more empathetic and it's something I still struggle with, resulting to a failure in understanding the people I'm surrounded with, especially when it's about something sensitive. So having the chance to see things from the eyes of someone going through chronic illness, I felt enlightened and it gave me an idea on how I can make better assessment of how a person is doing.
Jacqueline's book is filled with empowerment and motivational messages that will surely bring light to those who need it. A book that absolutely encourages you to take a leap, have faith in yourself. Not only is the book helpful for patients with chronic illness but also to medical practitioners who can better understand what their patient feels and needs.
Life doesn't end after you become sick. Even if you've been knocked down by a bad flare, you will eventually get back up again and be able to learn new ways to cope with work, family, relationships, and stress.

Ilana Jacqueline, Surviving & Thriving with an Invisible Chronic Illness