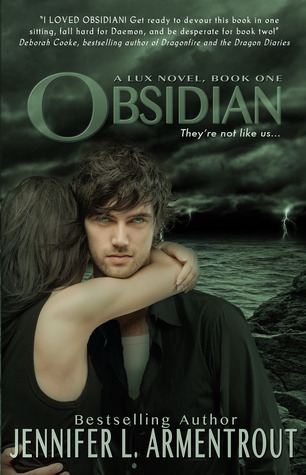 Genre: Romance, Science Fiction, YA
Published on:  May 8th 2012 by Entangled: Teen
Pages: 294 (Kindle Edition)
This is the second time I've read this book so my only expectation is for the hype to stay up, up and UP. The humor was strong as ever, the romance was still high, but a few levels lower from the first read, and the plot isn't as mind-blowing as I used to think. Although I forgot some information about the story, I remember the events and it didn't seem as mind-blowing as I thought it would be.

Story Preview
Probably one of my favourite series, Obsidian is the first book in Jennifer L. Armentrout's Lux Series. Katy Swartz and her mother had just moved to West Virginia where Starbucks and shopping malls are miles away. The only good thing about it? The neighbors. Daemon and Dee Black. Twins with gorgeous physique, they could win any pageants. Too bad they can't because the universe's attention is the last thing they need. Especially when these siblings are aliens. Not ET or whatever big-eyed, small-bodied creature you conjured in your head seconds ago, but more like "beings of light".
Now, Daemon and Katy are two things you would NOT want to put in one sentence. Their favourite hobby: bantering and intensely staring at each other. Leave it to them to make the impossible happen. One moment they're hating each other, the next, something happens and they have to stick together to stay safe and not attract danger.
To be honest, I don't know what to say, and I am thoughtless right now. I know I should be a bit more insightful because as I said earlier, I've read the book twice already but man, how wrong could I be. The one thing that I will never forget is how witty the banters between Katy and Daemon are. It's literally what pushed me to read the book. I'm a huge fan of hate-love stories and it's a must in my favorite books.
The Writing
Armentrout's writing is splendid and the way it is written in an informal manner sets a comfortable atmosphere, making it easy to follow and gives way to a fast read. Despite being a slow reader. The introduction of the supernatural entity to the present was seamless, and how the system it is built in is well-thought out that you'd find yourself enjoying page after page.
The Characters
The fact that Katy Swartz is a bookworm AND a book blogger and a vlogger who wears "my blog is better than your vlog" shirt is a perfect and relatable character for all people of blogoverse and vlogoverse out there. Three adjectives that fit her: dependable, confident, and perceptive.
There's also Dee and Daemon Black, the lovely and not-so-lovely neighbors (respectively) of Katy. Daemon with his smirking face and consuming green eyes will make girls swoon plenty. Playing the part of the mysterious guy is his master plan, but is actually secretly wanting to belong. Which makes him all the more…adorable. Dee, on the other hand is like the ray of sunshine in this story, so vibrant and I can clearly visualize her character skipping about like the happiest person on Earth.
The Plot
Maybe I have such high expectations for books that when confronted with a plot, I sometimes say, "that's it?" I've always looked for mind-blowing events in a plot and Obsidian delivered it…just enough. To give it justice, on my first read, it did  perhaps blew my mind. It had the wow and the ohemgee-ohemgee-ohemgee factor. The second read, not so much. Like I said, I knew the events that are happening already, so I already knew what happens next. Not so excitable as it seemed.
Filled with adventure, supernatural mystery, and beautiful folks, you will enjoy the book itself. It's so easy to get carried away and spend your time reading this book.
"I've always found that the most beautiful people, truly beautiful inside and out, are the ones who are quietly unaware of their effect." His eyes searched mine intently, and for a moment we stood there toe to toe. "The ones who throw their beauty around, waste what they have? Their beauty is only passing. It's just a shell hiding nothing but shadows and emptiness."